Exhibitor/Sponsor Prospectus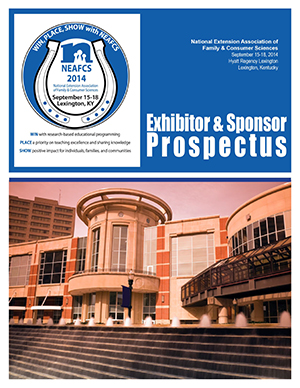 Download ...


The NEAFCS Annual Session attracts approximately 600 Family and Consumer Sciences Cooperative Extension educators from across the nation and its territories. NEAFCS members link research to life experiences by interpreting research and delivering that information to families.

Apply Now Online!

You really can't afford to miss the premier gathering of educators and decision makers from from all areas of Family and Consumer Sciences -- food preparation, food safety, nutrition,financial management, healthy lifestyles, housing and community development, and relationship and parenting skills. Your organization will be well positioned and highly visible for the 600 plus attendees* as they converge in Lexington, Kentucky for a week of professional development and experience the latest products and services that will keep them on the cutting-edge of their profession. No other event provides such extensive, targeted opportunities for exposure and in-depth interaction with your key customer audiences. The NEAFCS exhibit floor is a featured part of this premier and well-respected conference.
Exhibit Floor Diagram
As you complete the exhibitor application form, you will be asked to select your 1st, 2nd, and 3rd choices for an exhibit booth. Click here to download the exhibit diagram. It is updated regularly.