NAEHE History, 1933-1975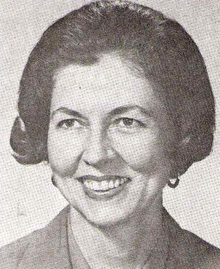 We are greatly indebted to Maxine Reeves from Louisiana for writing the history of our association. Reeves served on the board for several years and was elected President of NAEHE (National Association of Extension Home Economists) in 1967. As a dedicated member and past president, she compiled our history into a 155 page bound book entitled History of the National Association of Extension Home Economists 1933-1975.
In her introduction, she describes the process of writing the history as "three years of piecing together information from personal correspondence, telephone calls, reading thousands of pages of records including minutes, EHE Reporters and early history records." She likens writing this history to researching a Ph.D. Maxine, we thank you for your persistence and are indebted to your seeing the need to have a written history and your attention to detail in recording the history of our association.
In 1976, two copies of this publication were given to each state/affiliate and others were made available to purchase. Now, 33 years and several technologies later we are able to make this history available to all members on our website. I hope you'll take time to read the rich history of our association from the beginnings in Wisconsin with just 21 members in 1933 to the largest annual session attendance ever in Knoxville, Tennessee in 1975. Reeves records the closing speaker for that meeting instructing attendees on how to be professional. He urged the Extension Home Economists to be alert to changes and to constantly learn new skills in order to react to changes. We learn from our history that the more things change the more they stay the same.